Get a Library Card & Forms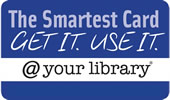 If you want to take materials home with you, you need to have a library card issued from a public library in Westchester County. Westchester's public libraries form a consortium called the Westchester Library System (WLS). As members of the WLS, we agreed to share our materials so your Pelham Library Card will be accepted at all of Westchester's public libraries.
To get your free card, bring proof of residence to the Circulation Desk:
If you live in Pelham, you'll get a card on the spot.
If you live elsewhere in Westchester, you'll need to get your card at your "home" library. For further information on getting a WLS member library card or to find your "home" library see the link to WLS's page Member Libraries.

Each library has it own policy over proper verification for identification and proof of address.

If you live outside of Westchester and you go to school, work, or own property in Pelham, bring proof and we'll issue you a card that will be valid for one year. Download and complete the application.
And, if none of the above applies, you can purchase an annual system-wide card from the WLS. See here for further information.
We encourage each person in your household to get their own card – this is one time in which sharing is frowned upon. Patrons are responsible for items checked out on their library cards.
Examples of acceptable proof of residency are:
A driver's license, a bill that's been mailed to your home or imprinted checks.
Proof of employment would be a company issued ID or a letter, on company letterhead, from your employer.
The Pelham Library is happy to accommodate the nannies and au-pairs of residents of Pelham, whose permanent residence is outside of Westchester County. In order for your employee to obtain a library card you must:
Fill out the nanny/au pair Library card application. You may pick this form up at the library at any time during library hours or download it here.
The nanny/au pair applicant must bring the completed application form, along with his or her ID card and a piece of the employer's business mail to the library in order to obtain a library card.
Children's Cards. Children are eligible for their first library card when they are enrolled in kindergarten. To make this rite of passage memorable, every September we hold a big K-Day event for all those new patrons to sign up. They get cookies and juice, face painting, story telling, and a library goody bag. And our fresh crop of library kids goes home with books, full tummies and a new sense of maturity. Download an application form here.
For the under 12 crowd, we will gladly keep their library cards on file here. You will still have a keychain card to use, if you wish, when you borrow directly at another WLS member library, or use the catalog or eResources at home.
Third Party Pick Up Holds. When requesting books occasionally you need someone to pick them up on your behalf. Fill out the third party pick up holds form to grant permission to that person to pick up your holds. Download this form here.
Replacement Cards: Of course, we all know that even mature library users lose their card from time to time, so we'll provide a replacement card for $1.00.
Expiration Date: All library cards expire after 3 years, with the exception of Nanny/Au Pair, Student, or Employed in Pelham cards which expire after 1 year from the date of issuance. To renew your card, simply show your ID and any necessary paperwork and we'll update your Pelham card for another year.