Friends' Fundraising
The Friends run two main fund raising efforts: Novel Night and the Donation Appeal. Each is biennial.
Novel Night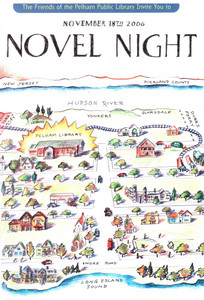 This is the Friends' signature fund raising event. Better than a whodunit, more stylish than a period romance and more fun than a rollicking good biography. It's the night that novels come to life all across Pelham. It happens on a Saturday night in the fall every other  year and it's a truly fun way for Pelham residents to support a great cause. The last Novel Night was October 2, 2021. You can visit the Novel Night website, and get more information on how to sign up, by clicking here.
How it works
More than two dozen Pelham residents, some pairing with friends, agree to host a dinner in their homes for as few as 12 people or as many as 60. The hosts select a novel to be their dinner theme for the night and create settings and food to reflect their respective novels. Dinner guests will come in novel or festive attire. Guests will be able to register for dinners online at pelhamnovelnight.com. Dinners are assigned on a first-come, first-served basis so guests are asked to make several choices.
On the Night 
The evening begins at 6p.m. with dinner at the hosts' homes. At 9 p.m., everyone comes together for the After Party featuring drinks, savory snacks and desserts, raffles and dancing at the New York Athletic Club at Travers Island. If guests prefer, they can attend the After Party only. Either way, it's a wonderful way to enjoy yourself and support a great library at the same time.
Our Thanks 
First to the dinner hosts who put their hearts and souls (and dining rooms) into a great cause. We couldn't do this without all of you and we know it! We also want to thank local businesses for their sponsorship and support. And finally and most important, thanks to the people of Pelham who, every second year, rock out for a Library we love. The Novel Night originally scheduled for November 21, 2020 held on October 2, 2021 due to the COVID pandemic.
Donation Appeal
The Friends send out an appeal letter every other year (when there is no Novel Night) and we are grateful to the many residents who support us. The appeal letters are sent to every residential and business address in the Town of Pelham. The mailing takes place after Thanksgiving time and is a great opportunity to make your year-end giving.