The Boy Who Harnessed the Wind Discussion for Adults and Teens, Tuesday, January 18, 7 to 8 pm
The Junior League and the Pelham Public schools are proud to present a year-long series of town-wide events related to the book The Boy Who Harnessed the Wind by William Kamkwamba and Bryan Mealer. The story is about a young boy in Malawi who was forced to drop out of school after a terrible famine. He continued to learn by visiting the village library and he became determined to improve the lives of the people in his community by building a windmill.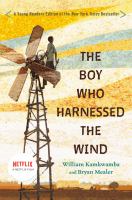 A panel of PMHS students from the National Science Society will be moderating this Zoom discussion. To register please click here. Sponsored by the Pelham Union Free School District, the Junior League of Pelham and the Pelham Public Library. For more information about town-wide events, please see the Pelham Harnesses the Wind page here.