Immigration and the Lower East Side: A Virtual NYC Walking Tour
Date/Time:

09/14/2023
6:30 pm -
7:30 pm
At the turn of the 20th century, the Lower East Side was the most densely populated area of New York City; some historians believe it was the most densely populated place on earth ever. Most new immigrants in the late 19th century were Jews who came from Eastern Europe and Russia. They mingled (and sometimes didn't mingle) with earlier German, Irish, Italian, and Central European, and Chinese immigrants who spread across the area from the former Five Points to what we now call the East Village.
This tour will look at the architectural, cultural, religious, and gastronomic cross-pollination that took place. 1901 was the year more stringent tenement house laws were passed, so we'll also look at how improving the lives of these New Yorkers perhaps also brought about the end of the neighborhood.
This virtual tour is led by James Nevius, author (with his wife Michelle) of Frommer's 24 Great Walks in New York, Inside the Apple: A Streetwise History of New York City, and Footprints in New York: Tracing the Lives of Four Centuries of New Yorkers.
This program will take place on Zoom and registration is required.  Please click here to register.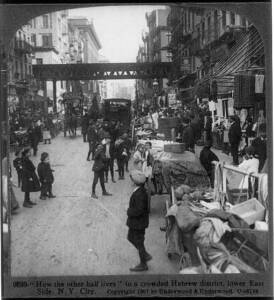 Download iCal
Categories No Categories