Pelham Author Rich Zahradnik Discusses His Novel, "Last Words," on Monday, November 3
Pelham's Rich Zahradnik will be at the Library on the night of Monday, November 3 to do a short reading and discuss his just-released crime novel Last Words (Camel Press). The event starts at 7:30 p.m. and books will be available for buying and signing.
Released on October 1, the novel – Zahradnik's first – features newsman Coleridge Taylor, who struggles to keep his job and repair his tarnished reputation in his pursuit of a story about a dead teenager. Last Words is set on the mean streets of Manhattan and the surrounding boroughs in 1975, as New York City hurtles toward bankruptcy and the Bronx burns.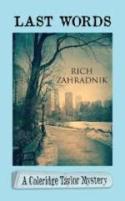 Against this backdrop, Taylor roams police precincts and ERs, looking for the story that will deliver him from obits, his place of exile at the Messenger-Telegram.
Says Zahradnik, "The year 1975 and the city of New York intrigued me because of the very striking parallels to America today. Then as now, an unpopular war was finally coming to its sad end. A major institution, the city itself, tumbled toward bankruptcy, threatening a cataclysm on the entire financial system. This as banks and ratings agencies ignored the warning signs or willfully misled the public. I chose this time period for the differences as well as the similarities. Solving a mystery in 1975 required good old-fashioned legwork and serious brainwork, rather than science fiction-like instant DNA typing and surveillance video available from any and every angle. Taylor has to find a pay phone when he needs to call someone. There's something satisfying in that for me."
Readers are destined to hear more from Taylor soon. Last Words is the first in a four-book deal Zahradnik has with Camel Press.
Zahradnik has been a journalist for 30-plus years, working as a reporter and editor in all major news media, including online, newspaper, broadcast, magazine, and wire services. He also mentors the newspaper staff at Colonial School's Colonial Times, teaching kids how to publish online and print newspapers.
Registration is not required at this Library author talk. Look forward to seeing you there!