Come and Have Fun! Children's Spring Break Programs at the Library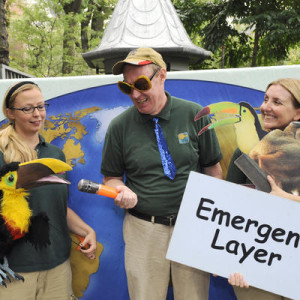 Spring break is coming, and it's full of opportunities for fun for kids at the Library. Join us for the programs below, including a visit from the Central Park Zoo (pictured at right). The special programs will be held on the afternoons of Monday and Tuesday, March 21 and 22, and on Thursday, March 24. Story Time for pre-schoolers will be at its usual times on Tuesday and Wednesday mornings. See the Library calendar for details.
Movie Screening of Shaun the Sheep: Monday, March 21, 2:30 – 4 p.m.
Start off spring break with a free afternoon screening of the family movie Shaun the Sheep. From the creators of Wallace & Gromit, it follows what happens when Shaun takes the day off and has enough adventures – involving a farmer, a caravan and a steep hill – to make him most interested in returning home. Registration is not required.
Let's LEGO: Tuesday, March 22, 2:30 – 4 p.m.
If your children never tire of building things with LEGOs, they are not alone. To get their LEGO love out, come to the Library for a 90-minute open session of creating with this classic toy. The Library even provides the LEGOS! Other board games will also be available. Registration is not required; this program is open to ages five and up.
Central Park Zoo Brings the Rainforest to the Library: Thursday, March 24, 2:30 p.m.
The Central Park Zoo returns to the Library during spring break for this program about the rainforest. It's a chance for children to learn about the layers of the rainforest, habitat geography and animals that reside in each habitat. For grades K – 3. Registration is required by calling the Library at (914) 738-1234.
See you at the Library!