Date/Time Date(s) - 06/17/2019

4:00 pm - 5:00 pm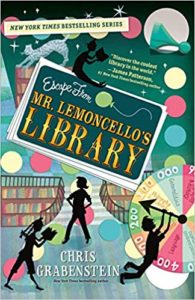 This novel, part of a series, focuses on the phenomenon of the "escape room." The new library in Kyle Keeley's town happens to be designed by Luigi Lemoncello, a world-renowned game maker, and Kyle is one of the lucky twelve children who've been invited to a "lock-in" there to celebrate the Library's opening. Now that they're in, how will they get out?
Walk-ins are welcome to the Library's elementary school book clubs for grades 1 – 4, but registration is requested by calling the Library at (914) 738-1234. Book club books are usually available at the circulation desk for immediate checkout. This is the last session of this club until next fall.
Download iCal
Location
Town of Pelham Public Library
Categories