Date/Time Date(s) - 11/02/2017

7:30 pm - 8:45 pm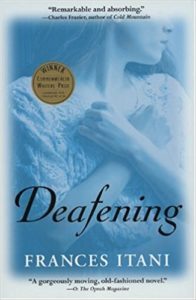 At its November meeting, the After-Dark Book Club will discuss Deafening by Frances Itani. This novel intertwines the topics of deafness and World War I, mostly focusing on Grania O'Neill, a young girl from Ontario, Canada, who becomes deaf after contracting scarlet fever. Taught to lipread, sign and speak, she aids a childhood friend who, injured and back from the war needs to rediscover his voice.
All are welcome at the Library's book clubs and copies of the current selection are usually available at the circulation desk. For more information about this month's title, please click here.
Download iCal
Location
Town of Pelham Public Library
Categories