Date/Time Date(s) - 06/14/2019

10:30 am - 11:30 am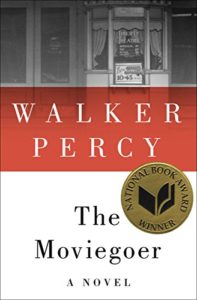 Winner of the National Book Award in 1961, this was the first novel written by Walker Percy, who became one of the major literary voices of the South. Percy's novels were often focused on the theme of the modern world's disruption and alienation and such is the case with The Moviegoer. The moviegoer is young New Orleans stockbroker Binx Bolling, who searches for meaning in life, at first by obsessively going to the movies, until things take a different turn at Mardi Gras.
All are welcome to the Library's book clubs. Copies of the current selection are usually available at the circulation desk. This is the last meeting of the club before its annual summer hiatus.
Download iCal
Location
Town of Pelham Public Library
Categories