Station to Station: Ed Hotchkiss Author Talk
Join us at the Library on Tuesday December 6 from 7:00 to 8:30pm for this excellent Author Talk with Ed Hotchkiss.
Ed Hotchkiss has been honing the art of telling photographic stories for years, creating personal documentaries of subjects he cared about. As he traveled the NYC subway to work, to meet friends, and to see live entertainment, he decided to observe fellow riders closely instead of following the usual practice of avoiding eye contact. He snapped a few discreet shots here and there, then saw some images that resonated with him. He realized he had a compelling story about the people in the subway, the only way he knew how – with his Nikon camera.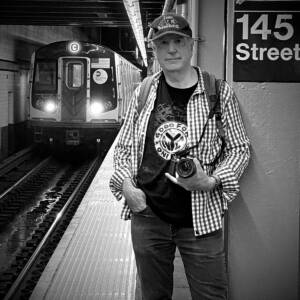 Once he started, it became a mission, lasting over ten years and countless hours on the NYC subway. Some of the photos are in Queens and of Queens passengers coming to Manhattan. The black and white photos portray the gritty feel of the passengers on the subway in way which pays tribute to their daily lives.
After taking thousands of negatives, he compiled a book of 74 images which highlight his observations in the subway cars and stations. The handsomely printed book is called Station to Station: Exploring the New York City Subway. He traveled every line from end to end several times, thus the name of the book.
The photography was all done while Ed was a resident of Pelham and commuting to NYC for work in the financial services industry. Ed is a former Mayor and Trustee of the Village of Pelham.
His talk here at the Library will discuss certain images in the book and how he was able to get candid portraits. These photos were taken in the 2000-decade, before the cellphones of today with sophisticated cameras. As a result, it has a unique look and catches a time period which is in people's memory but different from today. For more information on the book, go to his website here.
Registration is preferred and can be done here. Walk-ins are also welcome. Copies of Station to Station will be available to be signed and purchased during this event.