Safe/Haven: Gay Life in 1950s Cherry Grove with the New-York Historical Society
Date/Time:

06/07/2023
7:00 pm -
8:00 pm
Welcome to Cherry Grove! In the years before the Stonewall Uprising, this secluded beach enclave on Fire Island was a respite for gay men and women. Explore this fascinating and forgotten history with nearly 70 photographs from the 1950s, courtesy of the Cherry Grove Archives Collection.
During weekends and summers in the pre-Stonewall era, gay men and women, including many New Yorkers, traveled to the secluded beach town of Cherry Grove on Fire Island where they found opportunities for sexual exploration and self-expression—behavior that was both stigmatized and criminalized in the straight world. Together with creative figures like Truman Capote, W.H. Auden, Carson McCullers, and Patricia Highsmith, these visitors to the Grove took pleasure in the costumed parties, theatrical events, and liberated atmosphere that this gay sanctuary provided.
This program takes place on Zoom and registration is required.  To register please click here.
This program is presented in collaboration with the Katonah, Mount Pleasant, and Yonkers-Riverfront Public Libraries.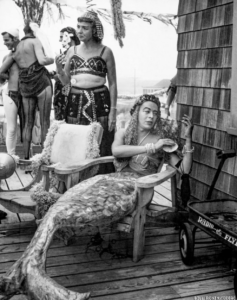 Download iCal
Categories No Categories