Pelham Page Turners Tie for Third in "Battle of the Books"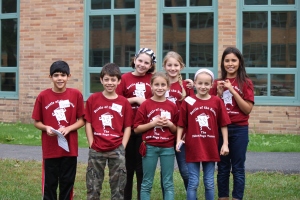 In a hotly contested competition that included teams from ten Westchester libraries, the Pelham Page Turners—a group of eight Pelham kids in grades 4 through 6—tied for third place in their age group in the Westchester Library System's "Battle of the Books." The Battle—the first ever held in Westchester—was staged on Saturday, October 18, at the Scarsdale Middle School with several hundred contestants, parents, coaches and volunteers in attendance. "I was really surprised by how many people were there," said Vikram Jallepalli, a sixth grader at Pelham Middle School.
"They completely rose to the occasion during the competition," said Augusta Turner, the Pelham librarian who served as team coach. "Reading is usually something you do alone, but in 'Battle of the Books' kids who love to read are able to experience books in a new and exciting way by competing as a team."
All told, 15 libraries participated, with some fielding teams in the fourth through sixth grade category, some in the sixth through ninth grade category, and some in both.
Team members joined the Page Turners over the course of the summer and into the fall. "I really like reading and I really like 'Jeopardy' so I thought it would be my thing," explained Eliza Bratone, a sixth grader at the middle school and one of three Bratone sisters to compete. In fact, the competition was similar to 'Jeopardy'—with a dash of 'Family Feud'—with teams competing head-to-head and trying hard to be the first to hit the buzzer to answer each question.
The team trained in a series of practices that tested their knowledge of five works of fiction and non-fiction. "It wasn't that hard because [Mrs. Turner] made it fun," said Scarlett Bratone, a fourth grader at Colonial School.
By all accounts, the most difficult book to study was Titanic: Voices From the Disaster. "There were so many facts and numbers," said Colonial School fifth grader Eleanor Moraes. "It's hard to keep track of everything."
When game day came, team members said they were excited—and nervous. Colonial fifth grader Kathryn Alexander explained how she calmed her nerves: "My dad put on Nirvana in the car and I tried to just sing as loud as I could."
Their coach was nervous too. "I've been to lots of kids' sporting events, and this was one of the most intense events I've ever seen," said Turner.
Despite the nerves and the intensity, it looks like the Pelham Page Turners are eager to come back next year.
"We came in third place, but I really wanted to come in first or second," said Katie Bratone, a Colonial fourth grader. Voicing the sentiment of the other team members interviewed by the Bookmark, she added, "I definitely want to do it next year."
Other team members included James Findikyan and Caroline Michailoff, both fifth graders at Colonial.
 ————————————————————-
QUICK READ: THEME DINNERS ARE SOLD OUT, 
BUT YOU CAN STILL PARTICIPATE IN NOVEL NIGHT
This year's Novel Night, scheduled for Saturday, November 15, looks to be one of the biggest ever, with 680 people planning to attend at last count. While the book-themed dinners are sold out, there are still two ways to be involved: by buying a ticket to the after-party at The New York Athletic Club or participating in the Novel Night raffle for a chance to win a five-night stay in London and Paris. Attendance at Novel Night is not required to take part in the raffle.
Both types of tickets are available at pelhamnovelnight.com and at the Library. Tickets for the after-party are $95 each; raffle tickets are $50 apiece and can also be purchased at the after-party.
Proceeds from Novel Night, which is produced every other year by the Friends of the Town of Pelham Public Library, benefit many programs for people of all ages by supporting the operating budget and funding special projects, such as the redesigned website.
 ————————————————————-
 UPCOMING PROGRAMS
Children's Programs
Storytime: Tuesdays for ages 3-5, 10:30 – 11 a.m.; Wednesdays, two and under, 10:30 – 11 a.m. Attendance is limited to the first 40 people who sign in, children and caregivers included. Sign-in begins at 10:15 a.m.
Bilingual Storytime: Saturdays, 11:00 a.m.; ¡Hola! Everyone is welcome to hear children's stories read in Spanish, and English, by a native speaker. Knowledge of Spanish is not required. No sign-up necessary. The last session for this fall will be November 22.
Homework Help Has Resumed: Tuesdays and Thursdays, 3:30 – 4:45 p.m. For children in grades 1 – 8. Students must bring their assignments and textbooks.
Adult Programs
Adult Book Club: November 6, 7:30 p.m. The Club will discuss Island Beneath the Sea, by Isabelle Allende.
Talk with Pelham's Rich Zahradnik, author of the new crime novel Last Words: Monday, November 3, 7:30 p.m. Local author Rich Zahradnik will talk about Last Words, his debut novel, a murder mystery set in the crime-ridden New York City of 1975. Books will be on hand for buying and signing. Registration is not required.
Learn to Sell on Ebay! Saturday, December 13, 2:00 p.m. Joan Rudd, who has been selling on eBay for 14 years, will give tips and tricks for becoming a successful seller and teach participants how the site works.
Computer and Device Instruction: Call the Library to make an appointment for individualized instruction in popular programs or bring your device and get started with free apps that give library patrons access to free e-books, e-audiobooks, e-music and more.
 ————————————————————-
LIBRARY NOTES
The Library has a new Wi-Fi printing service that allows patrons to print documents, photos, and more from their own devices, inside or outside the library. For more details, call or visit the Library or go to pelhamlibrary.org and click on "Using".
The Library will be closed on Thursday, November 27 and Friday, November 28 for the Thanksgiving holiday.
All Library programs are free and open to the public. To sign up for programs that require pre-registration, call the Library at 914 738-1234.
(Reprinted with permission. This story originally appeared in The Pelham Weekly on October 29, 2014.)