LGBTQ Pride Month Resources
A library-curated list of education and advocacy groups and projects, as well as books, feature films and documentaries available through the Westchester Library System.
National Organizations
Equality Forum  http://www.equalityforum.com/ Equality Forum coordinates LGBT History Month, produces documentary films, undertakes high-impact initiatives and presents the largest annual national and international LGBT civil rights summit.
GLAAD https://www.glaad.org/ GLAAD rewrites the script for LGBTQ acceptance. As a dynamic media force, GLAAD tackles tough issues to shape the narrative and provoke dialogue that leads to cultural change. GLAAD protects all that has been accomplished and creates a world where everyone can live the life they love.
Lesbian Herstory Archives https://www.lesbianherstoryarchives.org/ The Lesbian Herstory Archives exists to gather, preserve and provide access to records of Lesbian lives and activities. It is home to the world's largest collection of materials by and about Lesbians and their communities.
Trevor Project https://www.thetrevorproject.org/ The Trevor Project is the leading national organization providing crisis intervention and suicide prevention services to lesbian, gay, bisexual, transgender, queer & questioning (LGBTQ) young people under 25.
Local Organizations and Websites
LGBTQ Life Westchester https://www.lgbtlifewestchester.org/ A comprehensive, online resource for Westchester's LGBTQ+ community to access local opportunities for support, engagement, and connection.
The Loft LGBTQ+ Community Center https://www.loftgaycenter.org/ Located in White Plains, NY, The Loft aims to further the cause of inclusion, diversity, and pride through education, advocacy, and celebration.
NYPL Archives of Sexuality and Gender https://www.nypl.org/collections/articles-databases/archives-human-sexuality
Contains 51 digitized archival collections exploring LGBTQ history and culture since 1940.  Includes three collections held by NYPL: The Mattachine Society of New York Records, 1951-1976; Gay Activists Alliance, 1970-1983; and ACT UP: The AIDS Coalition to Unleash Power.
Stonewall Forever https://stonewallforever.org/ Stonewall Forever is a Living Monument in New York City to 50 years of Pride, centered around the site of the historic Stonewall Riots. This online exhibit utilizes augmented reality. Anyone can contribute online to the monument, as well as view the Stonewall Forever documentary.
Stonewall National Monument https://www.nps.gov/ston/index.htm The Stonewall Inn, a bar located in Greenwich Village, New York City, was the scene of an uprising against police repression that led to a key turning point in the struggle for the civil rights of lesbian, gay, bisexual, and transgender (LGBT) Americans. Today, the site of the uprisings in Greenwich Village is recognized as a National Historic Landmark (NHL) by the National Park Service. The NHL includes the bar, Christopher Park, and the streets where the events of June 28-July 3, 1969, occurred. The Stonewall Inn is located at 51-53 Christopher Street, New York City, New York and is open to the public.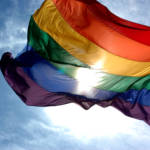 At the Library
Children
Hurricane Child by Kheryn Callender | J CAL
I am Jazz  by Jessica Herthel and Jazz Jennings | J 306.76 H
Ivy Aberdeen's Letter to the World by Ashley Herring Blake | J BLA
Mommy, Mama, and Me [board book] by Lesléa Newman | JP NEW
My Life as a Diamond by Jenny Manzer | J MAN
Plenty of Hugs by Fran Manushkin | JP MAN
Stonewall: Building an Uprising, a Revolution by Rob Sanders | J 323.32 S
Teens
Aristotle and Dante Discover the Secrets of the Universe by Benjamin Alire Sáenz | YA SAE
Beyond Magenta Transgender Teens Speak Out by Susan Kuklin | YA 306.768 K
Channel Kindness: Stories of Kindness and Community by Lady Gaga | YA 302 G
Brave Face: A Memoir by Shaun David Hutchinson | YA BIO HUT
Gay and Lesbian History for Kids : The Century-Long Struggle for LGBT Rights, with 21 Activities by Jerome Pohlen |  YA 323.3264 P
Gay-Straight Alliances: Networking With Other Teens and Allies by Kristina Lyn Heitkamp | YA 373.182
The Meaning of Birds by Jaye Robin Brown | YA BRO
Queer, There, and Everywhere: 23 People Who Changed the World by Sarah Prage | YA 306.766 P
Queer: The Ultimate LGBT Guide for Teens by Kathy Belge and Marke Bieschke | YA 306.76 B
Rethinking Normal: A Memoir in Transition by Katie Rain Hill | YA 306.768 H
Teens and LGBT Issues by Christine Wilcox | YA 362.7 W
You Should See Me in a Crown by Leah Johnson | YA JOH
Adults
Angels in America: A Gay Fantasia on National Themes by Tony Kushner | 812.5 K PT.1; 812.K  PT.2
In the Dream House by Carmen Maria Machado | 306.874 M
Lot: Stories by Brian Washington | WASHINGTON FIC
Raising Ryland: Our Story of Parenting a Transgender Child With No Strings Attached by Hillary Whittington | 362.7 W
Sissy: A Coming of Gender Story by Jacob Tobia | 305.309 T
Tomorrow Will Be Different: Love Loss, and the Fight for Trans Equality by Sarah McBride Ed., foreword by Joe Biden | 306.766 M
Movies  
Kanopy is kicking off Pride Month with a curated collection of 20 films that celebrate the diversity and determination of the LGBTQI+ community. Included are documentaries like Stonewall Uprising and Political Animals that examine Pride's early days and the lead-up to marriage equality. Feature films like Oscar-winning Moonlight, New York Times Critics' Pick Saturday Church, and Maurice starring Hugh Grant, showcases the ongoing heart and humanity of those who choose love despite tough odds.  To view the list visit: https://www.kanopy.com/category/43961?utm