Immigration and Refugee Resources
Did you know that in 2019, the number of migrants around the world rose to 272 million? Whether by choice, or by necessity, more people than ever now live in countries other than their birthplaces. This list contains resources about the history of immigration in the United States, the experiences of migrants today, and the people and organizations that provide support. And don't forget to check-in with the library and other local organizations for programming on International Migrants Day, which takes place every year on December 18th. 
Many thanks to Hearts & Homes for Refugees, and the Westchester Jewish Coalition for Immigration for their advice and support in creating this resource list.
National Organizations and Websites
Bureau of Population, Refugees, and Migration
The BPRM, a bureau of the State Department, aims to provide protection, ease suffering, and resolve the plight of persecuted and forcibly displaced people around the world. They coordinate humanitarian policy and diplomacy, providing life-sustaining assistance, working with multilateral organizations to build global partnerships, and promoting best practices in humanitarian response.
Church World Service (CWS) was born in 1946, in the aftermath of World War II. Seventeen denominations came together to form an agency "to do in partnership what none of us could hope to do as well alone." Today, they are involved in refugee resettlement. 
Hebrew Immigrant Aid Society (HIAS)
Although the organization began as a resource for Jewish refugees from Russia and Eastern Europe in 1881, HIAS expanded its services to non-Jewish populations in the 2000s. Today, they provide humanitarian assistance to refugees from around the world. 
Celebrated every year on December 18, International Migrants Day is a United Nations Observance that seeks to educate the public on migration, migrants, and their experiences. You can access some of the UN's many publicly available resources about migration, including World Migration Reports, databases, statements and meeting notes from the General Assembly and the Global Forum on Migration and Development, and more, through their website. 
International Organization for Migration (IOM)
IOM works to help ensure the orderly and humane management of migration to promote international cooperation on migration issues, to assist in the search for practical solutions to migration problems and to provide humanitarian assistance to migrants in need, including refugees and internally displaced people.
International Refugee Assistance Project (IRAP)
IRAP organizes lawyers or law students to protect the human rights of refugees and displaced persons. Their legal services department represents refugees, and provides legal information and counselling. The litigation department addresses larger-scale systemic issues that affect refugees and asylum seekers. Finally, the policy department aims to enact federal and local legislation that offer life-saving visas, legal protections, and other supports to refugees and displaced people.
International Rescue Committee (IRC)
The IRC works with local government bodies, civil servants, and volunteers to provide services to refugees, asylees, victims of human trafficking, survivors of torture, and other immigrants.
Islamic Relief provides food, services, and support to refugees new to the United States, and provides aid to refugees and displaced people internationally.
Lutheran Immigration and Refugee Service
Lutheran Immigration and Refugee Service (LIRS) is the largest faith-based nonprofit dedicated to serving vulnerable immigrants, asylum seekers and refugees in the U.S.
Multifaith Alliance for Syrian Refugees
The mission of the Multifaith Alliance for Syrian Refugees is to harness the collective power of faith-based and secular partners to build on the strength and resilience of the Syrian people, help them restore their lives, and plant the seeds for a more stable region. They deliver humanitarian aid to Syrians whose lives have been disrupted by war, advocate for rational U.S. refugee policies, create greater awareness of the strength and resilience of the Syrian people and the need to help restore their lives.
For more than 70 years, the UN Refugee Agency has provided support and services to refugees, asylum-seekers, displaced persons, and stateless people. For more on their services and how to access them, take a look at their resources for asylum-seekers in the United States page.
With offices in New York, Chicago, San Francisco, and Washington, D.C., Upwardly Global coaches immigrant and refugee professionals in rebuilding professional careers in the United States, and U.S. employers in accessing their talents with inclusive hiring practices. 
U.S. Committee for Refugees and Immigrants (USCRI)
The mission of USCRI is to protect the rights and address the needs of persons in forced or voluntary migration worldwide and support their transition to a dignified life. They provide legal services, policy and advocacy work, and resources for immigrant children, refugee health, refugee resettlement, and trafficking.
USCCB Migration and Refugee Services
Migration and Refugee Services (MRS) fulfills the commitment of the U.S. Catholic bishops to protect the life and dignity of the human person. For more than 50 years, MRS has served and advocated for refugees, asylees, migrants, unaccompanied children, and victims of human trafficking.
World Relief is a Christian organization that partners with over 6,000 churches and 95,000 local volunteers to address disasters, extreme poverty, violence and oppression, and to provide services for refugees, immigrants, and displaced-people.
Local Organizations and Websites
A Guide to Community-Based Organizations for Immigrants from the New York State Department of Education (NYSED)
This directory of community-based organizations for immigrants in NYC is from 2019, and is organized by borough. Although specifically focused on NYC, it also includes a section on state-wide resources. 
An initiative of the Arab-American Association of New York, the Accompany Project trains bystanders to disrupt harassment and violence, particularly against Arab, Muslim, and undocumented folks. Bystander Intervention and Organizing 101 trainings are now available across New York City.
Originally created to support Bosnian refugees in 1996, the ANSOB Center now serves refugees, immigrants, and asylees from around the world.
Central American Refugee Center (CARECEN)
CARECEN provides legal assistance to immigrant communities in Nassau and Suffolk Counties on Long Island. 
The Citizenship Now program from CUNY offers free, high-quality, confidential immigration law services for those seeking U.S. citizenship. Their services include free virtual citizenship classes for green card holders, as well as free consultations and application assistance. 
Community Resource Center (CRC)
Based in Mamaroneck, the CRC provides educational programs, case management and referral services, and advocacy for immigrants and low-income families in need.
Haitian Women for Haitian Refugees (HWHR)
HWHR provides support to Haitian families who have sought asylum in the United States, and works on various relief projects. 
Hearts & Homes for Refugees started in Pelham in 2016 with a  mission to resettle refugees and to build a community of welcomers across the county. Hearts & Homes mobilizes the most powerful and untapped resource—the passion and the goodwill of volunteers to welcome refugees with the help of Community Sponsor groups, which provide services, starting with finding and furnishing apartments, community and cultural orientation,  enrolling children in school, ESOL support for families, navigating social services and the healthcare system, employment and career assistance, and navigating a new culture and language.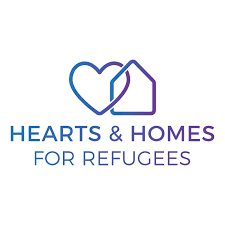 The time and resources offered by community sponsors to arriving refugees offer better chances for successful integration and independence. As a volunteer-driven non-profit, Hearts & Homes is always looking for supporters to welcome, assist and advocate for refugees. They also publish booklists of Refugees in Literature for further reading recommendations as well as a Hearts & Homes for Refugees Resource Bank, a collection of resources on everything from childcare, to cultural opportunities, to legal services, to trauma-informed care.

Institute for Immigrant Concerns (ICC)
ICC offers English classes, career development and job placement, and provides referral to other support services. 
Neighbors For Refugees is a grassroots humanitarian group located in Larchmont, NY. Their mission is to welcome, protect and advocate for refugees in our community and abroad. They resettle refugees and provide services such as setting up an apartment before their arrival, orienting them to their new community, getting children in school and adults into ESL (English as a Second Language) classes, assisting in locating jobs or building a business, and supporting them in navigating a new culture and language. refugee resettlement, community connections, ESL support, career assistance, and also help with social services and empowerment initiatives.
Based in Mt. Kisco, Neighbors Link has been serving immigrant families for 20 years as of 2021. They offer programming at their Family Center, as well as ESL classes, support for finding employment, and legal assistance for immigration cases. 
New York State Refugee Services
New York State provides some services to refugees and their families, including the Making A Connection (MAC) program, which pairs refugees ages 15-24 with adult mentors to support their educational and professional advancement.
Ossining for Refugees, founded just recently in October of 2021, brings together people, houses of worship, community organizations, and service providers in Ossining, Briarcliff, Pleasantville, and Croton, with the shared mission of welcoming and integrating federally-sponsored refugees into our community.
Queer Detainee Empowerment Project (QDEP)
The QDEP assists folks coming out of immigration detention in securing structural, health/wellness, educational, legal, and emotional support and services. They work to organize around the structural barriers and state violence that LGBTQIA TS & GNC detainee/undocumented folks face related to their immigration status, race, sexuality, and gender expression/ identity.
The RDJ Refugee Shelter is a project from the WANA Resource Community Center in Harlem. The shelter specifically serves asylum seekers and refugees experiencing homelessness. You can also find referrals to local service providers, publications, and more on their website.
RIF Asylum Support offers many programs and services in New York City, including education consultations for asylees interested in pursuing higher education, legal orientation services (interview preparation, application review, work permit application assistance, etc.), a support group, and job search support.
Rivertowns for Refugees provides food, clothing drives, transportation assistance, housing and job search assistance, as well as support for other local organizations.
Even after arriving and securing an apartment, many families are unable to invest in furniture and other home goods, often sleeping on the floor, as they work to pay off debts and establish a new life. Ruth's Refuge provides home furnishings and essentials to refugees, asylees, and asylum seekers in New York City. 
Westchester Jewish Coalition for Immigration (WJCI)

WJCI is a non-partisan organization that envisions the United States as a place where refugees, asylum seekers, and other immigrants can live safely with dignity. We embrace both the Jewish and interfaith communities to support immigration by: connecting with key partners to mobilize our community around social action initiatives, indirect service, and volunteer opportunities that support local immigrants and refugees; engaging in learning and dialogue about issues affecting immigration; and advocating for policies that protect and safeguard immigrants and refugees. 
At the Library
Children
Teens
Adults
Movies
Borrow Online
Overdrive
Hoopla
Kanopy