CNN ENTERTAINMENT REPORTER AND PELHAM RESIDENT CHLOE MELAS TO GIVE AUTHOR TALK AT PELHAM LIBRARY
A suicide mission, aerial warfare, near-starvation, POW internment, and forced "death" marches…these are just a few topics that CNN entertainment reporter and Pelham-resident Chloe Melas will cover when she visits the Pelham Library to tell the story of her grandfather, World War II veteran Frank Murphy. Murphy's bravery and harrowing experiences during the war earned him the Purple Heart, Air Medal and POW Medal.
Melas wrote the new foreword for the re-release of her grandfather's 2001 bestseller, Luck of the Draw: My Story of the Air War in Europe (St. Martin's Griffin). Her Author Talk will take place on Thursday, March 23 at 7pm, just weeks before the 78th anniversary of Murphy's liberation from German POW camp Stalag Luft III in April 1945.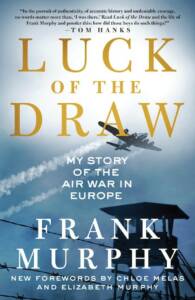 Murphy's real-life character will soon be featured in the upcoming Steven Spielberg and Tom Hanks TV Series, Masters of the Air. Murphy was a member of the 100th Bomb Group, one of five B-17 bomb groups sent to England in the spring of 1943 to form the new 4th Bomber Wing. He landed in England in June and by the time his plane was shot down in October, he served 126 hours in combat over Europe, experiencing some of the bloodiest fighting of the war
Murphy died in 2007 at the age of 85, but Melas will be on hand to describe his experiences and answer questions about his life during her much-anticipated Author Talk. According to Melas, "My grandfather once told me he spent the rest of his life walking with ghosts but looking back with pride." She explained that her family's goal "is to keep Frank's memory and that of his fellow men alive and pass on the greatness to the next generation." 
Copies of the book will be available for purchase and signing.
Chloe Melas and husband Brian Mazza have lived in Pelham since 2017. Their two young boys frequently attend story time at the Town of Pelham Public Library.