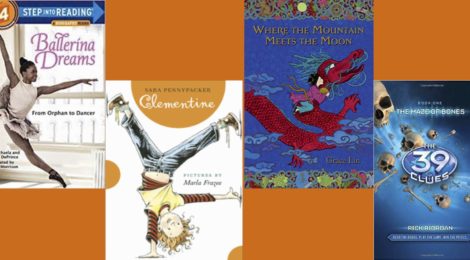 See What the Library's Elementary School-Aged Book Clubs Are Reading in January!
See below for what the Library's new elementary school-aged book clubs are reading this month!
First-Grade Book Club: Ballerina Dreams: From Orphan to Dancer by Michaela dePrince
Saturday, January 19, 11:30 a.m. – 12 p.m.
This autobiography by top American ballerina Michaela DePrince, and her adoptive mother, is for children who are just beginning to read independently. DePrince, now a principal dancer in New York, knew she wanted to be a ballerina from the age of three, when she was in an orphanage in Sierra Leone.
Second-Grade Book Club: Clementine by Sara Pennypacker
Thursday, January 31, 4 – 5 p.m.
This is the first book in the Clementine series, following the adventures of this free-spirited third-grader. The good news for Clementine in this story is that she's helping out her good friend Margaret. The bad news is she's getting in trouble for it!

Third-Grade Book Club: Where the Mountain Meets the Moon by Grace Lin
Saturday, January 19, 12 – 12:30 p.m.
The first of a trilogy of fantasy novels by Chinese-American author Grace Lin, tells the story of Minli, a girl who lives with her parents in a hut. She is inspired to find the Old Man on the Moon to learn the secrets of life, as he is the focus of one of her father's folktales. She has quite a few adventures along the way, as the book explores "themes of family, hope, mystery, courage, and classic Chinese folk tales."
Fourth-Grade Book Club: 39 Clues Book #1 — The Maze of Bones by Rick Riordan
Monday, January 28, 4 – 5 p.m.
This first book in this popular series from Rick Riordan introduces readers to Amy and Dan Cahill, who have just discovered – after the death of their grandmother – that they are members of the most powerful family in the world. They can find out what that power is by looking for 39 clues all over the world. (Or, they could take a million dollars and forget all about it.)
Walk-ins are welcome to the Library's elementary school book clubs, but registration is requested by calling the Library at (914) 738-1234. Book club books are usually available at the circulation desk for immediate checkout.