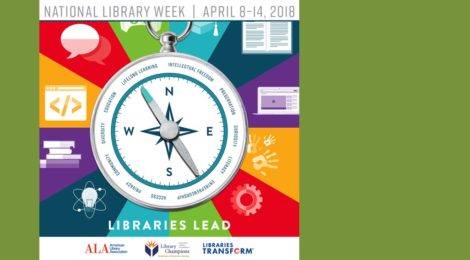 It's National Library Week!
The theme of this year's National Library Week is "Libraries Lead."
The American Library Association site notes that it is being celebrated with the following:
Monday, April 9: State of America's Libraries Report released, including Top Ten Frequently Challenged Books of 2017.
Tuesday, April 10: National Library Workers Day, a day for library staff, users, administrators and Friends groups to recognize the valuable contributions made by all library workers. #nlwd18
Wednesday, April 11: National Bookmobile Day, a day to recognize the contributions of our nation's bookmobiles and the dedicated professionals who make quality bookmobile outreach possible in their communities. #bookmobileday2018
Thursday, April 12: Take Action for Libraries Day, a national library advocacy effort observed for the first time in 2017 in response to proposed cuts to federal funds for libraries.#fundlibraries
Take a moment this week to celebrate our library!
For more on National Library Week, click here.