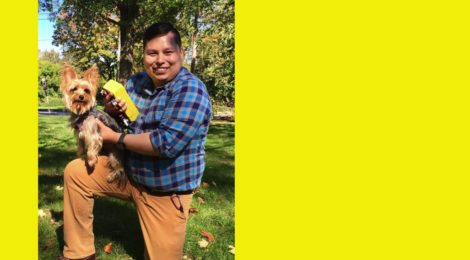 Meet (Or Re-Meet) the Staff: Youth Services Librarian Oz Coto-Chang
Patrons of the Library have no doubt seen a familiar face back at the Library over the last six months – but perhaps in an unfamiliar role.
In this edition of the Bookmark's "Meet the Staff" series, we re-introduce Oz (Oswaldo) Coto-Chang to the library staff, in his role as Youth Services Librarian, a post he's held since late August last year. Long-time Pelhamites know Coto-Chang well, as he started at the Library as a circulation clerk in 2005, working there part-time through his graduation from Stony Brook University with a B.A. in History in 2011. He then went on to get his Masters in Library Science at Queens College. A Pelham native who graduated from Pelham Memorial High School in 2003, Oz is also one of five siblings who all have worked at the Library.
While his career progression seems linear, it's a path Oz almost didn't take. Had things gone differently, he might have been a police officer – maybe even in Pelham. Yes, the same man who now reads books to babies and toddlers during Story Time on Wednesday mornings had at one time set his sights on becoming a law enforcement officer, and interviewed with the New York Police Department, the Village of Pelham Police Department and the Secret Service before the financial crisis of almost a decade ago put those possibilities aside. By that point, the joys of working in a Library were well ingrained. "I came to enjoy it," he said. "It's really satisfying to find something for patrons and see how happy they are in the end."
Since his initial tour at the Pelham Library, Oz has broadened his library experience by holding part-time jobs at four other area libraries – West Nyack, Mount Pleasant, White Plains and Irvington — since full-time library jobs can be hard to come by. His duties usually were part those of an adult services librarian and part those of a children's services librarian.
Coming back to Pelham, and into the job long held by Lilly Hecker, who retired last summer, has had its interesting moments. It was serendipitous that he returned to Pelham just before last year's Pelham Reads Oz; he dressed in character for Pelham Reads events and participated in the Friends of the Pelham Public Library's "yellow brick" campaign to promote the event.
And, as Oz says, he can count the number of male children's librarians in Westchester on one hand, and the young children he sees at Story Time didn't know quite what to make of the change. "At first, they were kind of spooked that there was this big guy standing in front of them reading stories," he says. Now, they enthusiastically call out to Oz.
Oz has also brought his unique, Pelham-raised perspective to the programs he has been putting together since he returned. He sees his role as "trying to help the community," so he is doing things such as planning movie screenings in the afternoon during early release days. He has also brought some innovative programs to the Library including two drumming events – on featuring an African Drumming Circle and Japanese Taiko Drumming. "I just notice it's something very inclusive," he says of the drumming programs. "It's basically bringing the world to the Library."
You can also see Oz's imprint in other programming choices, such as the coming screening of Star Wars Episode VIII: The Last Jedi on Thursday, April 5 during spring break. Asked to name a favorite book, Oz named Thrawn, a novel that tells the origin story of the Star Wars character Grand Admiral Thrawn.
His current favorite non-fiction selection is 1001 Ways to Save Money and Still Have a Dazzling Wedding; Oz is getting married in October 2019.
To see what programs Oz has planned for spring break, see below.
Spring Break Programs
Movie Screening: Jumanji – Welcome to the Jungle
Monday, April 2, 3 – 5 p.m.
Part of the Jumanji franchise, this story features Dwayne Johnson, Kevin Hart, Jack Black, Bobby Cannavale, Karen Gillan, and Nick Jonas. It focuses on a group of teenagers who are transported — as the characters they embody — into the actual Jumanji video game. Registration is not required.
Owls on the Prowl
Wednesday, April 4, 3 – 4 p.m.
Who's coming to the Library? Owls! In this spring break program for all ages, the New Canaan Nature Center will let you see owls up close! As the Nature Center says, "We are fascinated with Owls but rarely do we see them in the wild. With large eyes and silent flight, these quiet hunters are considered a valuable top predator in many ecosystems around us! This fun program explores the various types of owls in our region by meeting them up close and investigating what they eat via a pellet dissection!" Registration not required.
Movie Screening: Star Wars: Episode VIII — The Last Jedi
Thursday, April 5, 3 – 5:30 p.m.
During spring break, the Library will be hosting a screening of this latest in the Star Wars series. Registration not required.
This story was originally published at pelhamplus.com and in The News of Pelham.