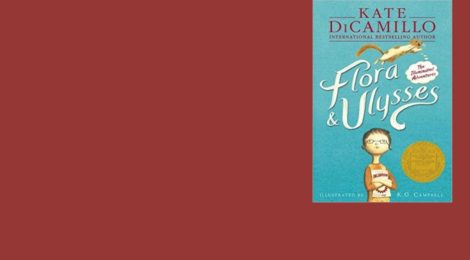 May 24: New Third Grade Book Club Kicks Off With "Flora & Ulysses"!
The Library is launching a new book club next month – with a twist! It's exclusively for third graders.
The first session of the new club will be held on Thursday, May 24, from 4 – 5 p.m.; the group will discuss Flora & Ulysses by three-time Newbery Award winner Kate DiCamillo. Parents of interested third graders can register their children by calling the Library at (914) 738-1234. Copies of each month's book club selection will be available at the circulation desk for those eager to join.
Leading the club is long-time Pelham resident Margo Hastings, who recently retired from her job as school librarian at The Mandell School on the Upper West Side, following similar roles over the years at the Convent of the Sacred Heart in Greenwich and at F.E. Bellows Elementary School in Rye Neck.
For Hastings, the club is a homecoming, of sorts. Before she became a school librarian, Hastings was a Library Assistant at Hutchinson School here in Pelham; she got her Masters degree in Library Science with a certification in school media at St. John's University. "I knew I wanted to do this," she said, "because I loved being in the Library at Hutch." (There, she was known as "Ms. S".)
In this new role, Hastings will draw on her experience facilitating other children's book clubs and also helping manage an intramural Battle of the Books competition. Hastings said the book club is "meant to be kind of a casual thing and the kids always drive the conversation," Hastings is particularly excited about the prospect of finding books that will get everyone reading – including reluctant readers.
The May book, Flora & Ulysses, is a story about a comic book lover (Flora) and a squirrel who acquires superpowers following a battle with a mega-powerful vacuum cleaner (Ulysses).  Hastings says, "It will tickle your funny bone (that means have you laughing out loud) GUARANTEED!" She also loves that it has comic-style illustrations, and that even though Flora's mother is not happy that her daughter loves comic books, Flora & Ulysses is, in fact, an ode to comic books.
The June meeting — on Thursday, June 14 — features the novel The True Blue Scouts of Sugar Man Swamp by Kathi Appelt, and is also from 4 – 5 p.m. The book features two raccoons who live in an abandoned DeSoto automobile and solve a local town mystery. It also includes humans, wild hogs, and the Sugar Man, a Big Foot-type character who has just awakened from a 60-year sleep.  According to a review in The New York Times:  "Librarians often say that every book is not for every child, but The True Blue Scouts of Sugar Man Swamp is."
If you're a third grader – or the parent of one – make sure to sign up for this casual, fun library program. It's a chance to read and talk about some great books and meet some new friends in the process.
(This post originally appeared on pelhamplus.com and in The News of Pelham.)