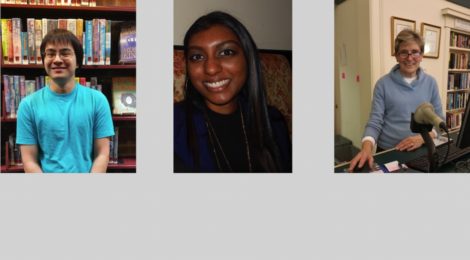 Bookmark: Meet the Library Staff, Part III
Over the first half of the year, the Bookmark has been introducing you to the Library staff. While the people who work there are familiar – and certainly helpful — many of us don't know much about them.
So, this Bookmark – part three in the recurring series – features brief interviews with new support services supervisor Irene Kobziar, and pages Daniel Gritz and Chelsea Ramsingh.
It Was All About the Numbers; Now It's As Much About the Words
When she first started at the Pelham Library 14 years ago, Irene Kobziar – who was named support services supervisor in March — was actually more interested in numbers. Her first job at the Library was as a part-time bookkeeper. But now, Kobziar has given over some of her early love of numbers to words. "Did working at the Library change me? Oh yeah, extremely," she says.
She marvels at what the Library provides, "How you can come out with ten books and it didn't cost you a thing," she explains. She also enjoys helping patrons find books and other materials.
While Kobziar has long been a familiar face behind the circulation desk, her new role draws on her considerable organizational skills; her responsibilities include everything from managing recycling to overseeing the staff of clerks and pages. She particularly enjoys maintaining the Library's collection. "The books come in, the books go out, with a 100 different steps in between," she says.
When Kobziar checks out books on her own, she gravitates towards house, garden and self-help books, along with books about organizing – of course! One interesting outside-the-Library interest: she volunteers for the Atlantic Highlands Conference of the United States Collegiate Ski and Snowboard Association (USCSA).
Many Moves, But Never Far From a Library
Library page Daniel Gritz has lived in San Antonio, San Francisco, Riyadh, Berkeley, Kansas City and Pelham, but all of those locations had something in common: proximity to a library. "My family has never lived more than a few blocks from a Library," he says. The family's focus had an obvious side effect: "I've loved libraries since I was very young," Gritz says.
Gritz, who has worked as a page for approximately two years, started his work at the library by tending not its books, but its grounds. His mother Ligaya has tended the Library's outside plantings as a volunteer and Daniel used to help her out. His volunteerism eventually led to his current role as a page, a job that entails doing what needs to be done to keep the Library organized and clean. While re-shelving books is a given, so is processing and mending the books, dusting the shelves and helping patrons, even if it simply means pointing them in the direction of a more knowledgeable librarian.
Gritz' favorite genre is science fiction, and his favorite authors include Haruki Murakami, Charles Yu, and when he's in the mood for non-fiction, Malcolm Gladwell. Asked about a book he probably never would have read were he not for working at a library, he mentions Heartsick by Chelsea Cain, which he describes as a "gender-flip" on the plot of The Silence of the Lambs. As a library page, Gritz loves the perk of taking out lots of books, and rarely having to buy them. "Owning books seems expensive and unnecessary," he says.
Volunteering at the Library Turns Into a Job There
One oft-given piece of career advice is to volunteer at a place you'd like to work to see if it leads to a paying job. Library page Chelsea Ramsingh is evidence that the strategy works; she joined the staff as a page last fall after volunteering during the summer when some other job prospects didn't work out. "I enjoy reading and books, and over the summer, I really didn't have anything to do," she explains.
Ramsingh who lives in the Bronx, combines her part-time library job with school. She is due to graduate from Iona College this month with a Bachelor of Science in Computer Science. She will continue at Iona next year, to complete a five-year program that will result in a Masters Degree in Computer Science.
Ramsingh grew up loving fantasy, particularly the Harry Potter series, but her favorite thing about her job isn't the books — it's the people she works with. "I think it makes it nice when everyone's a community and helping each other out," she says.
QUICK READ:
PELHAM LIBRARY TO AGAIN "FIELD" TWO TEAMS
IN THE BATTLE OF THE BOOKS
For the third year in a row, the Library will be going to October's Battle of the Books (BOB). A county-wide competition, sponsored in part by the Westchester Library System, the Battle pits teams from libraries throughout the county against one another in a test of how well they know the content of a list of predetermined books.
For the second year, Pelham will be bringing two teams to BOB, the grades 5 – 6 Pelham Page Turners and the grades 7 – 10 Pelham Bookworms. Practice schedules are posted at pelhamlibrary.org. (Sorry, both teams are full and there are no slots available for additional team members.) The Pelham teams are sponsored by a gift in memory of Karin and Ted Mayer.
CHILDREN'S PROGRAMS
Final Session of Chess Instruction: Mondays, May 23, 7 – 8 p.m.
The final session of this spring's chess instruction is this coming Monday night. Taught by John Gallagher, the series is for ages five and up and people of all abilities. Registration is required. 
 
Debut of Chinese-English Bilingual Story Time: Begins Saturday, June 18, 10:30 – 11:15 a.m.
你好 (Ni Hao! – or "Hello" in Chinese.) This summer, beginning on Saturday, June 18, there will be a Chinese-English version of Story Time, organized by bilingual Pelham parents and their young kids. It will be held every other Saturday in the Library's Activity Room, featuring Chinese picture books and songs for children, as well as interesting language and cultural activities. All families with children through third grade are welcome. Signup is not required.
Story Time: Tuesdays for ages 3 – 5, 10:30 a.m. Wednesdays for children ages 2 and under, 10:30 a.m.
Take the little one in your life to the Library's Story Time for preschoolers. Attendance is limited to the first 45 people who sign in, children and caregivers included. A new ticket system will be put into effect soon, replacing the current sign-up system. Going forward, patrons will use tickets to attend Story Time.
Homework Help: Tuesdays and Thursdays, 3:30 – 4:45 p.m.
For children in grades K – 8. Students must bring their written assignments and accompanying textbooks, and they are free to drop in and leave when they've completed their assignments. Different high schoolers help out, depending on the day. Homework Help is also a good opportunity for beginning readers to read aloud to an interested teen. Snacks are provided. Homework Help ends for the school year on Tuesday, May 31.
All Library programs are free and open to the public. Unless otherwise noted, call the Library at (914) 738-1234 for events that require pre-registration. Out of courtesy to fellow attendees, please be on time.
ADULT PROGRAMS
After-Dark Book Club: Thursday, June 2, 7:30 p.m.
The After-Dark Book Club will discuss Dead Wake: The Last Crossing of the Lusitania at its final meeting before its summer hiatus. This book about the tragic sinking of the Lusitania in 1915, by a German U-boat, brings to life many of the characters involved in its story, including Boston bookseller Charles Lauriat, architect Theodate Pope and President Woodrow Wilson. Stay tuned for the 2016-2017 selections to be discussed starting in September.
2nd-Friday Book Club: Friday, June 10, 10:30 a.m.
The 2nd-Friday Book Club will discuss Some Luck by Jane Smiley at its June meeting before going on hiatus until September. The first of a planned trilogy, Some Luck covers a generation growing up on an Iowa farm spanning the years from 1920 to 1953. This is the last meeting before the summer break. Stay tuned for the 2016-2017 selections to be discussed starting in September.
Plan Your Social Security Benefits Strategy: Monday, June 13, 7:30 p.m.
Many Americans think Social Security is simple and straightforward. Often it is not. Making a mistake when selecting your benefit option can cost thousands of dollars over the course of retirement. Even if you think you're up to speed, the recent bipartisan budget act made some significant changes to Social Security laws about claiming retirement and spousal benefits. If you'd like to be on top of the issues involving Social Security – especially if you're in your 50s or 60s — come to this program at the Library, featuring Robert Leitner, a certified financial planner, registered investment advisor, and expert on Social Security benefits planning and retirement income planning. Registration is requested, but walk-ins are welcome.
One-on-One Computer and Device Instruction:
Call the Library to make an appointment for individualized instruction in popular computer programs, such as Microsoft Word and Excel. You can also bring your smartphone or tablet to the Library and learn how to get started with apps that give library patrons access to free e-books, e-audiobooks, e-music and more.
LIBRARY NOTES
Library Closed on Memorial Day
The Library will be closed on Monday, May 30, in observance of the Memorial Day holiday. Starting on June 4 and continuing until Labor Day, the Library will be open from 10 a.m. to 1 p.m. on Saturdays.
This column originally ran on pelhamplus.com on Monday, May 23.