Date/Time Date(s) - 06/23/2017

3:30 pm - 5:00 pm
NEW TIME FOR SUMMER READING PROGRAM KICKOFF: Due to the fact that Friday, June 23 is now a full day of school in Pelham, the official Summer Reading Program kick off on that day, with a musical performance b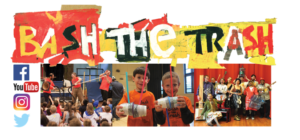 y Bash the Trash, will now start at 3:30 p.m. (Bash the Trash is what it sounds like – the organization has been building, performing and educating with instruments made from recycled and reused materials for more than 25 years!) There will be no library service during the one-hour concert.
Following the performance — at approximately 4:15 p.m. — attendees can make their own instruments out of ordinary materials provided by the Library. Sign-up is required for the workshop only, by calling the Library at (914) 738-1234, and attendance is capped at 50 kids. Hope to see you there!
The Bash the Trash event is funded by a gift in memory of Karin and Ted Mayer.
Download iCal
Location
Town of Pelham Public Library
Categories