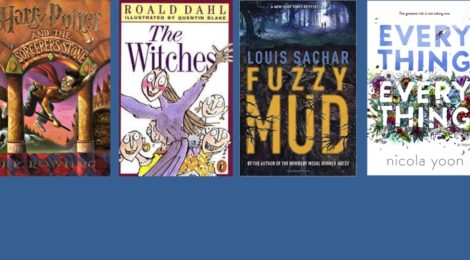 The Battle of the Books Is Back: Info Meeting on May 11!
The Pelham Library is once again sponsoring two teams in the annual Westchester Library System Battle of the Books, which this year is scheduled for Saturday, October 21. An information session is scheduled for Thursday, May 11 from 6:30 – 7:15 p.m.
The Battle of the Books (BOB) is an annual book-based trivia tournament. One of Pelham's teams will be for 5th and 6th graders, and the other will be for students in 7th through 10th grade. The teams will compete against teams from other Westchester libraries. The competition format is similar to Jeopardy and questions are based on the five assigned books for each age bracket. Participation is open to any Pelham resident who will be in grades 5-10 in September.
The 5th -6th grade team will read the following books: 
Fuzzy Mud by Louis Sachar
Ms. Bixby's Last Day by John David Anderson
One Crazy Summer by Rita Williams Garcia
Out of My Mind by Sharon Draper
The Witches by Roald Dahl
The 7th-10th grade team will read these books:
Everything Everything by Nicola Yoon
Fever 1793 by Laurie Halse Anderson
Harry Potter and the Sorcerer's Stone by J.K. Rowling
Jackaby by William Ritter
Michael Vey, the Prisoner of Cell 26 by Richard Paul Evans
In addition to reading all five books over the summer, team members are required to attend several Monday and Thursday night practices in September and October.
To learn more, come to the informational meeting or get in touch with librarians Augusta Turner (aturner@wlsmail.org) or Lilly Hecker (lhecker@wlsmail.org). They can also be reached by calling the Library at (914) 738-1234.
BOB is funded by a gift in memory of Karin and Ted Mayer.